George W. Peck's contribution to this book can only be seen in the salesman's sample (canvassing book) published for the Clarkson and Cooper publishing house. In this advertising vehicle there are a number of letters from politicians touting this title's marvelous content. Peck wrote one of those epistles. His letter does not actually appear in the book itself.

The book itself consists of letters sent from a fictional William Bradley (ex-governor) to a friend Ned. Within the 487 pages there are 58 letters and 48 illustrations (from the pen of John T. McCutcheon).

Some of the "tattlings" first appeared in local newspapers including the Chicago Tribune. The first edition of the book was published by the Chicago in 1903 by Sampson-Hodges, a Chicago firm. The second book edition was published in 1904 by another Chicago house, Thompson and Thomas. Clarkson and Cooper published the third edition in 1904. Another edition was published by Charles C. Thompson Co. This firm succeeded Thompson and Thomas in 1909.

Forrest Crissey (1864-1943) was an author of books and magazine articles. He was born in New York but spent most of his life in illinois. At one time he was on the staff of the Saturday Evening Post.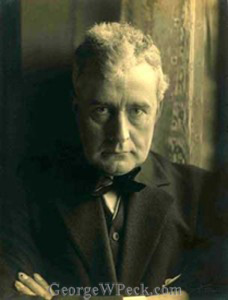 Here are pictures of the 1904 Clarkson and Cooper salesman Sample Book.


This is the cover of the 1904 Thompson and Thomas format.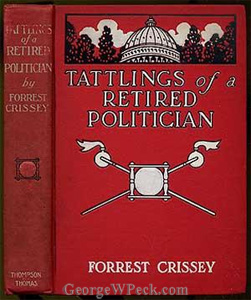 This book was clearly a financial success. Advanced sales of thirty thousand is very impressive. Here is a sample of their solicitation for the deluxe format of this title.

I do not know if the book pictured here is the "deluxe" book or not.


Cover of a Charles C. Thompson Company edition.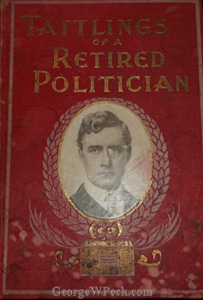 Unknown publisher.
The title page does not reference a publisher.