This firm succeeded the publishing house of Charles C. Thompson Co. in 1917. John R. Stanton had formerly been president of the Charles C. Thompson Company and C. H. Van Vliet had been president of the Whitman Publishing Company.

In 1922 C. H. Van Vliet bought out John R. Stanton's interest in the company. "Stanton and Van Vliet" continued to publish books at the 2537 S. State Street address at least until 1925. There are no listings of publications by this company thereafter. It appears that John R. Stanton returned to the publishing business at at least by 1927 and perhaps in 1925 since there are John R. Stanton Company publications with the State Street address on the title page. The earliest books with this imprint that I have seen were dated 1927.

It published five Peck books.

The combination book of Peck's Bad Boy and His Pa Complete and Compendium of Fun contained Peck's Bad Boy No. 1, No. 2 and Peck's Sunshine. It is 8.75 x 6. 25 and was priced at 75 cents. It has 100 illustrations by True Williams. This book is the same as the Thompson and Thomas and the Charles C. Thompson editions. A second (later) version with 200 illustrations by True Williams which cost $1.00 was printed. This book was 470 pages.
Earlier combination book


Ad for the later combination book. Note the different cover.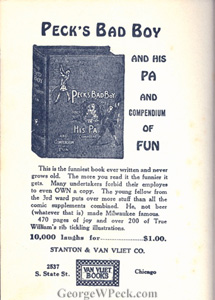 In 1919, it also published in wraps and hardcover:

Peck's Bad Boy in an Airship
Peck's Bad Boy Abroad
Peck's Bad Boy with the Cowboys
Peck's Bad Boy with the Circus

The wraps' books have the same cover illustration as the earlier published titles. The hardcover books have a new cover and were published with dust jackets.


Here is an ad for these four books from the reverse of a dust jacket.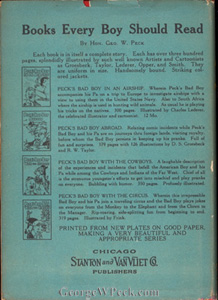 This one page advertisement appeared in a July, 1921 Publishers' Weekly magazine. Stanton and Van Vliet Co. were attempting to take advantage of the Peck's Bad Boy movie to help the slakes of its Peck's Bad Boy books.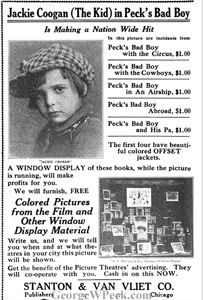 Stanton and Van Vliet also published some of the Peck's Bad Boy Comics. It is not yet certain which ones it printed. Here is an example of Peck's Bad Boy and His Country Cousin Cynthia.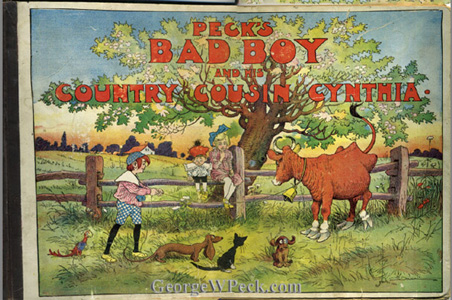 This firm also published the comic: Peck's Boy and His Chums (See comic section for a representative picture)


Stanton and Van Vliet Co. published Melville Landon's Library of Wit and Humor in 1918. This book contains several vignettes written by Peck.

For more information see: http://www.georgewpeck.com/library.html