The Homewood Publishing Company was incorporated in 1902. Its principals were Arthur B. Schaffner, Harry Goodman and Arthur L. Schwartz. Many of its books were published in the exact same format as the W. B. Conkey Company published books. In fact, in some instances the series name was unchanged.

The relationship between Conkey and Homewood is unclear to me at this time.

Homewood Peck books are relatively uncommon and information is somewhat limited. It is presumed that these books were all published in the 1902-1905 time frame.

Combination books
There were three combination books known so far.

Peck's Bad Boy and His Pa and Compendium of Fun combines Peck's Bad Boy, No. 1 and Peck's Bad Boy, No. 2 with Peck's Sunshine in one volume. This combination book was previously published by Conkey in the same format.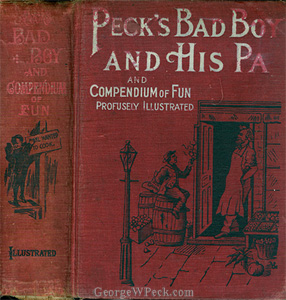 A second combination book includes How Private Peck Put Down the Rebellion. This volume includes the main title book in its entirety but only the first 96 pages of Peck's Boss Book.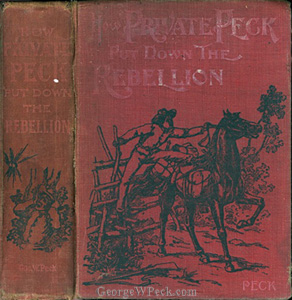 It is likely that some of the Homewood Series included all seven of the Peck books published during these years. This remains to be proven.

Peerless Series
Peck's Bad Boy and His Pa Complete is part of this series. The book is in wraps.
This volume includes Peck's Bad Boy, No. 1, Peck's Bad Boy, No. 2 and Peck's Sunshine.

How Private Geo. W. Peck Put Down the Rebellion included the title volume as well as Peck's Boss Book. This is a non-series publication.

At least two series in wraps included Peck books.

Franklin Series had seven peck books. This appears to be identical to the earlier Conkey published series.
02 Peck's Boss Book
07 Peck's Sunshine
08 Peck's Irish Friend
09 How Private G. W. Peck Put Down the Rebellion
010 Peck's Bad Boy with the Groceryman
011 Peck's Bad Boy
012 Peck's Fun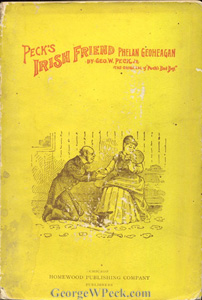 Abbey Series
This 391 title series of reprints only included one Peck book- Peck's Boss Book. The books are 12 mos. and were priced at 25 cents. This series also appears to be an identical reprint to the Conkey Series.


New Cameo Series
Homewood published this series in the same format as W. B. Conkey had done in 1903.
Peck's Boss Book is the only Peck book in this multivolume series.


Unknown Series
Conkey used this cover (and others) for its Varsity Series. It is not known whether other Homewood Peck books were issued in this series.


This book belongs to an unknown series. Of note is that Conkey published this title in this exact format. (7.5 x 5.25)


Peck's Boss Book was published in Homewood's Oxford and Homewood Series. It is presumed that the formats of these series are the same as the Conkey series with the same names but it is unclear at this time.


Unknown Series