This book was written by Metta Victoria Fuller Victor using the Walter Gray pseudonym. She wrote more than one hundred books. One of the first dime novelists, she wrote the first full length detective novel written by a woman, The Dead Letter.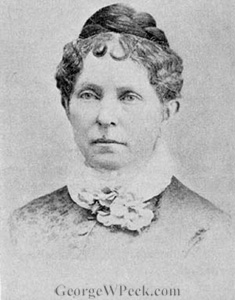 Victor's Bad Boy, eight year old Georgie Hackett, also was featured in Bad Boy Abroad and The Bad Boy at Home. These books were written in the first person with Georgie's feeble attempt at spelling and speech making the book difficult to read.

This book was the best selling title in 1880.

J. S. Ogilvie & Co. New York published the first edition in parts and subsequently in cloth/wraps in 1880. The book was copyrighted however by Street and Smith. In 1880 Ogilvie and Street and Smith came to an agreement in which J. S. Ogilvie and Co. would be allowed to publish certain stories which would be agreed upon by each of the parties (Street at the time was a member of the Ogilvie firm). Ogilvie would then pay royalties to Street and Smith. This title was among the books that this agreement pertained to. A subsequent lawsuit was brought in 1888 by Francis Smith in the name of the firm Street and Smith (Street died in 1883) for unpaid royalties. Ogilvie prevailed with the court noting that Ogilvie had paid Street and Smith royalties in 1883 and there was a statement that said paid in full. The court stated that there was no other representations by the parties and the settlement in 1883 was just and fair without fraud.

The details of the lawsuit can be seen at: http://books.google.com/books?id=HeU7AAAAIAAJ&pg=PA234&...

This first edition was originally published in parts. Each part had 48 pages and cost 10 cents. Part 1 was advertised in April, 1880. Part the second was noted in May, 1880.

This little 7.25" x 4.75" part is the earliest publication of a section of the Bad Boy's Diary. Note that it states Part First on the front cover. Also it has the 29 Rose Street address indicating a publication between 1879 and 1881. The last page of text indicates Part Second is about to be issued.
| | |
| --- | --- |
| | |


I am not certain about the third part's publication date. Part the fourth was to be ready by October 25, 1880 per advertisements. These parts were sold separately into the mid-1880's.

Here is a later part No. 1. This No. 1 has the 25 Rose Street address indicating an 1881-1882 publication. Note the subtle cover differences.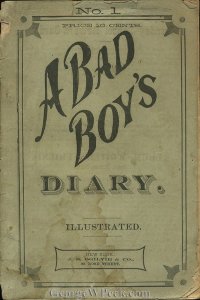 The first complete edition (including all four parts) of a Bad Boy's Diary was ready on November 1, 1880. This book consisted of the four previously published parts. It was published in hard cover ($1.00) and in wraps (50 cents).

Ogilvie reprinted this title a number of times in various formats. These Ogilvie books had three illustrations done by C.W.C. The later hardcover editions contained 276 pages spread over 30 chapters. The earlier 1880's books name no author.

Between 1880 and the late 1880's this title was published in non series form. Hardcover 12 mos. at $1.00 and paperback at 50 cents.

Dating the books and determining the edition can be done by looking at the Ogilvie address on the title page.

Ogilvie street addresses:
29 Rose Street 1879-1881
25 Rose Street 1881-1882
31 Rose Street 1883-1886
57 Rose Street 1888-1897


The book directly below notes 29 Rose Street on the title page. Thus this book was published in the 1880-1881 time frame and probably is the first edition. Two different sets of ads have been seen with the 29 Rose Street edition.


1880 presumed first edition


The key advertising pages in these 29 Rose Street books are the ones that mention "The Diary of a Minister's Wife". The earlier ad states that the publishers "will at once issue". This ad is from the First Edition, First printing.

The later ad notes that 10,000 copies have been sold.
I am unaware off any other 29 Rose Street books that have different pages relating to this title.


This is an 1881-1882 edition.


This book was published between 1883-1886


Also note the last page (prior to the ads) in each book. The later book mentions a new book-The Bad Boy Abroad. This title was published in 1883. This is a further confirmation of the range of dates of publication.
| | |
| --- | --- |
| Earlier book (Blue cover) | Later book (Orange cover) |


Here is a paperback book published between 1883 and 1886. It has the later last page (as is shown just above).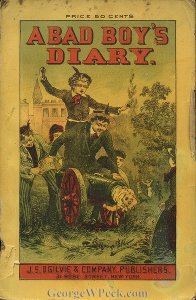 Ogilvie Series publications

The People's Library published an edition in wraps for 20 cents in 1883. In this large (almost 400 titles) series Bad Boy's Diary was #315 "by the author of Miss Slimmens Boarding House". This series was continually published into the 1890's.

Starting in 1884 Ogilvie began publishing a number of combination books. These books were issued quarterly and could be purchased as one book for 30 cents, six books for $1.75 or twelve volumes for $3.50. Subscriptions were also available. Each book contained between five and 12 titles. Ogilvie continued to add books to this series of books throughout the 1880's.

A Bad Boy's Diary was part of group #14 (Published in 1885):
Hilda
Ninety-Nine Readings and Recitations
Bad Boy's Diary
Her Last Christmas Day
Village School
Diary of a Village Gossip

and #43 (Published in the late 1880's):
Blunders of a Bashful Man
Bad Boy's Diary
Miss Slimmens' Window
Miss Slimmens' Boarding House
Fated to Marry

Peerless Series was published in 1890. This series of paper-covered books cost 25 cents each. A Bad Boy's Diary is #16 out of 33 titles. This series noted the author as W. T. Gray. The Peerless Series was published into the 1900's.

Old Sleuth Special Detective Series
In 1899 A Bad Boy's Diary was published in two parts as part of the Old Sleuth Special Detective Series. Part One and Two were numbered 21 and 22. This paperback series had 27 titles and the books cost 25 cents each.
| | |
| --- | --- |
| | |


Popular Books Bound in Paper Series included A Bad Boy's Diary for 25 cents in the 1901 Ogilvie catalogue.

The 500 Laughs Series also had a Bad Boy's Diary for 25 cents in wraps. It was published in 1901.

Ogilvie published the Joke (and Fun) Books starting in 1903. This series included more than 100 titles and the books were sold to the trade for 7 cents each and to the public for 15 cents each. A Bad Boy's Diary was broken up into Part 1 and Part 2 as numbers 16 and 17 in the series.

Here is A Bad Boy's Diary in wraps. Note that although the cover title is A Bad Boy's Adventures the title page notes A Bad Boy's Diary. Despite the part two on the upper right hand corner of the cover, this book includes only part 1 (of two). On the spine it states it is No. 16. Thus, it is part of the Joke and Fun Book Series.


Here is the Part 2 book from the Joke (and Fun) Books. Note that No. 17 is on the spine.


The 1904 Humorous Books included A Bad Boy's Diary in Parts 1 and 2 for 15 cents each in wraps. At one point this series included a 25 cent "complete" Diary book. It named Little Georgie as the author.

In 1904 this title was included in the Popular Cloth Bound Books priced at 75 cents.

In 1911 Ogilvie published this hardcover book once again with Walter T. Gray as the author and with Merle Johnson as the illustrator.

Also in 1911 this title was included in the Railroad Series. The books of this paperback series sold for 25 cents. The author is noted to be by the author of "The Blunders of a Bashful Man". Merle Johnson did 16 full page illustrations.

This 1911 paperback is part of Ogilvie's Railroad Series.


Here is a 4.5" x 2.5" trade card for "A Bad Boy's Diary". The 25 Rose Street address indicates an 1881-1882 date.The 10 cent price means that this card was referring to one of the wraps' editions published in parts.


Non-American Publishers

England
Simpkin, Marshall and Co., a London Publisher, printed the "Diary" in one volume in 1882. It was priced at 6d and is 4 to.

George Routledge and Sons published an 8 vo. and a 12 mo. copy of Bad Boy's Diary in wraps, with color lithographed covers in 1883. In 1884 it published an 8 vo. edition. In the 1890's A Bad Boy's Diary was published as part of the Sixpenny Novels Series. As late as 1905 Routledge was publishing an 8 vo. edition in cloth (Books of Humour) and in wrappers (Caxton Novels).

Frederick Warne and Co., London published a 126 page edition of A Bad Boy's Diary in 1883 in its Notable Novels and Notable Books Series. These books are 8 vo. and cost 6d each. The Diary book is #101.
| | |
| --- | --- |
| | |


Ward, Lock and Company, London published A Bad Boy's Diary a number of times between 1883 and the early 1900's. In 1883 it was #6 in its New 6d Books. A bit later this book was also published in the Sixpenny Book Series as #60 in 1883. Ward, Lock published A Bad Boy's Diary in its Sixpenny Novels and Popular Books Series as #39 in the early 1900's. This book is in cloth and wraps.

It is not known which of the various Ward, Lock & Co. editions this book is. The binding may not be original. There are 98 two column pages. It is 8.25" x 5.5". The only illustration is the frontispiece.


Ward, Lock and Bowden, London published this title in its Sixpenny Novels and Popular Books Series as #57.

Alfred Hays, London printed this title in 1882.

Bon Marche, Liverpool (ca. 1880-1890)

Richard Butterworth and Co., London
This London publisher printed A Bad Boy's Diary without illustrations in 12 mo. size. (7.5 x 5.5).There is an inscription from 1903 which would indicate a pre-1903 publication.


George Newnes, Limited, London
I am unsure when this book was published. Certainly post 1910.


W. Foulsham & Co. LTD, London
A Bad Boy's Diary was book #1 in this firm's Pilgrim's Library. It originally came with a dust jacket.

It is cloth and measures 7.5" x 5".

This title was published in the 1924-1925 time range.
Australia
E. W. Cole, Book Arcade, Melbourne, Australia
This Australian company published A Bad Boy's Diary by Little Georgie in approximately 1920. It is in wraps at 7 x 5.

Edward William Cole (1832-1918). He began as a Melbourne bookseller in 1865. Cole founded the Book Arcade in 1883. In addition to the Arcade, Cole had a book publishing line of which this book is an example.

For more about Cole - see http://adb.anu.edu.au/biography/cole-edward-william-3243

This book was written by Metta Victoria Fuller Victor 1831-1885 (pseudonym- Walter T. Gray). The Little Georgie pseudonym was used for this edition.

I have seen two different editions of this title which were published by Cole. The Bad Boy and the Professor are in red in the earlier one. The title page of this format lists only one address for Cole. In the other (presumed later) book there are several Cole addresses. Cole first published this title in 1920.

Both books are in wraps, 7.25 x 5, and have the same text in 135 pages.

I do not know if there are any other Cole formats.


Germany
A German edition published in Munich in the late 1890's by Delphin-Verlag is shown below.


Czechoslavakia
Vaclav Kucinsky, Prague, Czechoslavakia This 1894 248 page book translated into Czech is entitled Z pamětí malého dare by: Americký humoristický román

Vaněk a Votava, Smichov, Czechoslavakia [1915] Z pamětí malého dareby : amer. humor. rom.


Netherlands
Here is a 20th century edition of the Bad Boy's Diary.

I am not sure of the publisher's name.