This book was written by Metta Victoria Fuller Victor using the Walter Gray pseudonym. She wrote more than one hundred books. One of the first dime novelists, she wrote the first full length detective novel, The Dead Letter.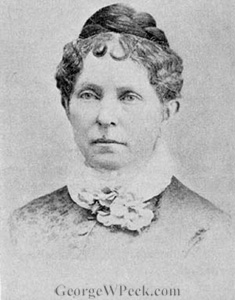 Victor's Bad Boy, eight year old Georgie Hackett, also was featured in A Bad Boy's Diary and The Bad Boy at Home. The text of this book is in the first person and is replete with Little Georgie's mispronunciations and misspellings. There are a few pencil drawn illustrations throughout the book but there is no artist attribution.

The 1883 first edition was published by J. S. Ogilvie and Company. Ogilvie published a number of editions in its various series both in paperback and hardcover. The book is 139 pages and the Ogilvie editions were frequently published with a 22 page excerpt from A Bad Boy's Diary.

I have seen three different books in wraps. They all have the same covers but the books are all different. The earliest book has no excerpt from the Bad Boy's Diary. Instead it has numerous Ogilvie book ads including a 155 title list from the People's Library. The other two have the Bad Boy Diary excerpt and were published later in the 1880's. See below for a cover picture.

Ogilvie editions are noted in:

Popular 25 Cent Books published after 1886. The Bad Boy at Home was also within this series.

The Favorite Edition published in 1888 and 1889. This title is #14 in this series.

People's edition #376 at 20 cents.

Humorous Books: This book is a 16 mo. paper back and cost 25 cents. The cloth book in this series was 60 cents.

Surprise Series included this title as #111.

Ogilvie also published a book that combined the Bad Boy at Home with the Bad Boy Abroad. This book was issued in paperback at 50 cents and cloth for $1.00.

The Ogilvie Abroad book below has a January, 1884 inscription and is an earlier Ogilvie book than the other Ogilvie Abroad book. I do not know whether it is the first edition or not.


Butler Brothers, New York & Chicago
Butler Brothers published the Electric Series in the 1889-1890 time frame. This series of more than 500 titles had two sets of numbering. This title has been seen as #43 (here) and #2 in the other (earlier) numbering.


John W. Lovell's Favorite Edition published in 1891 included this title as #7. Toward the end of 1890 Ogilvie transferred a number of series to John W. Lovell. This included the "Favorite Edition".

American Publishers Corporation published this book in its Linwood Series. This publisher printed this title with a second title. Two different second titles have been seen so far. The Beauty of Benburb and Allan's Wife have both been seen in a combination book.

This company was in business only between 1896 and 1897.


The International Book Company was in business between 1890 and 1892. It printed this title as #13 in the New Columbus Series during those years. This is a 12 mo. hardcover book. Two other formats of this series have been seen. It is unclear whether this title was published in those other formats as well as the one shown below.

It also published this title in the Aldine Edition in 1890.
| | |
| --- | --- |
| New Columbus Series | Aldine Edition |


It is uncertain to what series the International Book Company edition shown below belongs. This book was published late in the life of this company-probably 1892. The Hovendon Company took over the International Book Company in 1892 and the Hovendon name is on the base of this book's spine.

Note that this volume combines two Bad Boy books.


An Edition of this book was published in England.

George Routledge and Sons published a 125 page version of book in 1883.