1. Theatre Music
The plays were in reality musicals. There were three songs in the early authorized plays. Here is that early sheet music. The lyrics were written by the author of the play, Charles Felton Pidgin and the music was by Chas. D. Blake. This item contains the "Peck's Bad Boy" song. This song has eight verses. As you can see, this music cost 35 cents and was copyrighted in 1884.


A second piece of sheet music is for the five verse "Only a Boy" which was written by George W. Heath with music by Lillie May White. This song was copyrighted in 1901 and sung in Peck's Bad Boy plays thereafter.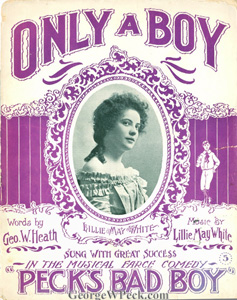 Here is the sheet music for an 1883 copyrighted Peck's Bad Boy Song. The words are by George Cooper and the music by J. P. Skelly. The first authorized plays had music that was written by Charles Felton Pidgin. Thus, this song which was written before the first authorized play must have been written for an unauthorized production.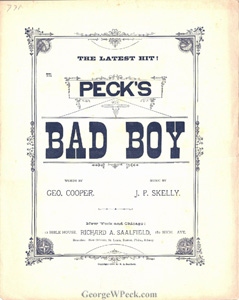 Several other Peck's Bad Boy sheet music scores have been seen. I do not personally own these items. They are from the Library of Congress. This one was composed by Fred Lyons in 1883. Clearly unauthorized by Peck.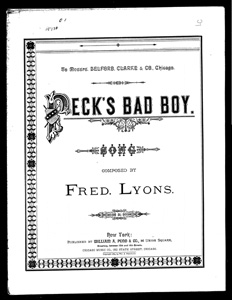 This score was composed by Sigmund Kahn in 1884. Again it is likely that this music was for a pirated play.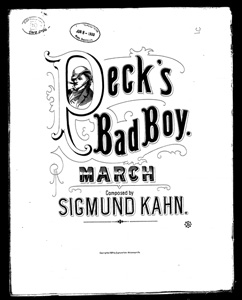 Here is more sheet music. Again without mention of Atkinson's Comedy Club, Charles Pidgin or George W. Peck, it would appear this music was for an unauthorized Peck play.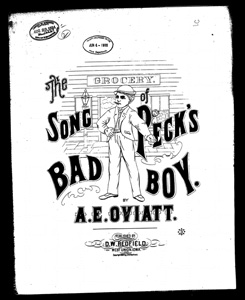 2. Music for the Peck's Bad Boy Movie in 1921
This music by Paul M. Sarazan and copyrighted in 1921 by Irving Berlin was "dedicated to Jackie Coogan". It was based on the 1921 movie but was not part of the film in anyway. Below is the sheet music published in New York and in London.

The lyrics:
There's a man named Henry Peck, He lives in my home town. He goes to church and minds the law and leads a simple life. And no one ever heard him say a mean world to his wife. But Henry Peck's notorious he's known for miles around. He's got a reputation that he can't live down: When they missed the curfew bell, They all blamed Peck's bad boy. He never missed a chance to give his sister's beau a shock. He stuck pins in the big settee and hid inside the clock. And when someone discovered that his cow was painted red. He used some awful language, then laughed and said. Chorus Because of Peck's Bad Boy too young to read or write; but Peck's Bad Boy, was scheming day and night, to get real joy, When he could play most all his pranks and get away with out his spanks. Not one red cent , and still he got inside the circus tent. He used to hang around the grocery store, and eat the profits of a day or more. The grocer used to roar at Peck's Bad Boy, Just like a bag of tricks, was Peck's Bad Boy, When he was in a fix he'd say Oh! Boy, I'm gonna fall like Troy. Altho' the neighbors said he was a pest, they really wished that they'd been bless'd with Peck's Bad Boy, That's what they always call'd him, Peck's Bad Boy.
| | |
| --- | --- |
| | |


3. Peck's Bad Boy Songsters
Several Peck's Bad Boy Songsters have been seen. These do not seem to have any relationship to Peck's Bad Boy books, movies, etc.

Tony William's Peck's Bad Boy Songster is a 64 page collection of humorous songs which was published by the New York Publishing Company. It does include music for Atkinson's Peck's Bad Boy Company. It was published in the 1880's.

Another Peck's Bad Boy Songster was published by the New York Publishing Company. It had 28 pages. Details of this item are unknown.

F. B. Haviland Company published this one. It include the music for a number of songs, lyrics for other songs, a page of jokes and some advertising. It is twenty pages.

F. B. Haviland Publishing Company (1904-1932) succeeded Howley, Haviland and Company in 1904. F. B. Haviland (1868-1932) was a major sheet music producer during these years. The peck's bad Boy Songster appears to have been published in approximately 1906.
| | |
| --- | --- |
| | Frederick Benjamin Haviland |


This Peck's Bad Boy Songster was published by the Harold Rossiter Music Company. This item is 16 pages long and includes sheet music, lyrics, ads for magic tricks, and other pages for "how to books and the like". There are no songs or lyrics related to Peck's Bad Boy. The songster was published in approximately 1923.