This 514 page book was published by the Madison Book Company of Chicago. This firm was established in 1902 by Frank K. Reilly and Sumner C. Britton. On March 1, 1904 the firm changed its name to Reilly and Britton Co. This book was published after 1903 (when it was copyrighted by L. G. Stahl). In 1906 it was published by the Monarch Book Company.

The Monarch Book Company was established in 1882 in Beloit, Wisconsin. Initially it was only a bookseller but as time went on it became more involved in publishing. The firm moved to Chicago and in about 1893 L. W. Walter took over as president. After Monarch's bankruptcy in 1907, it was succeeded by the L. W. Walter Co.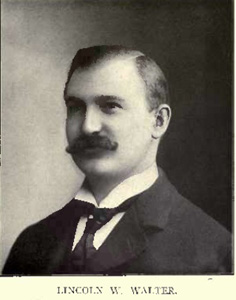 This anthology starts with an introduction by Robert Burdette.

George W. Peck contributed three short vignettes to this volume.

No Female Doctors
He Didn't Get the Apples
No Time for Ears to Freeze

There is also a short biographical sketch of Peck.


Another copy of this book is identical to the Madison Book Company version above with the exception of the title page. There is no indication anywhere in this book who is the publisher. A 1907 inscription indicates a pre-1907 publication.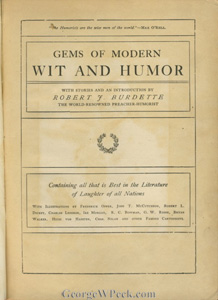 This book, published by L. W. Walter, (see above) dates from 1907 or later.