The second of the three feature length Peck's Bad Boy movies starred Jackie Cooper in a 70 minute film. This movie was probably the most popular of the three movies. Other stars included Thomas Meighan, Jackie Searl, Dorothy Peterson and Charles E. Evans.

It was directed by Edward Cline and produced by Sol Lesser.
This is a movie in which the characters are based upon the works of George W. Peck but the story does not directly follow any of Peck's works. Hennery Peck is now renamed Bill Peck. As is expected, there are a number of pranks but by and large the movie is really just about a young teenager adapting and dealing with life's "traumas".

The movie can be viewed here: https://www.youtube.com/watch?v=2ZFNJqsmmAM

There is quite a bit of ephemera related to this movie. Some relates directly to the movie (outdoor posters, window cards, lobby displays, slides, tire cover, etc.).

Here is a photo of Jackie Cooper and Thomas Meighan.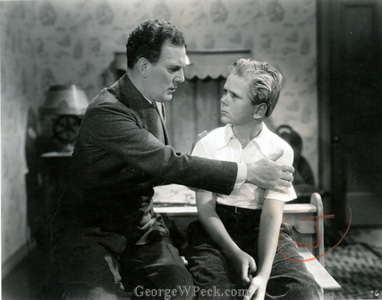 Quite a number of lobby cards were produced. Here are a couple of examples.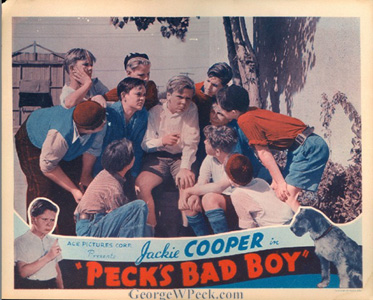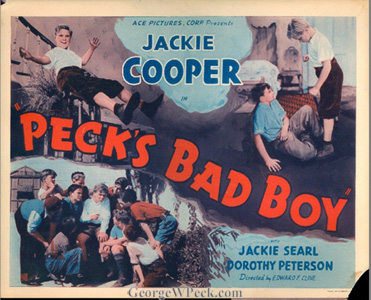 Here is a little pamphlet that was most likely sent to theatre owners. It reviews the movie and the advertising items that are available. Below are a few representative pages from this little booklet.
Other items are more indirect (Buttons, books, tickets, etc.).

Ticket:

Here is a movie ticket to the production.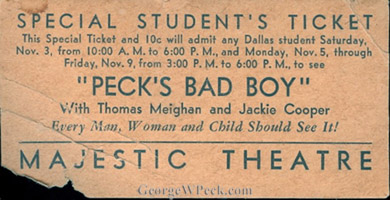 Pin: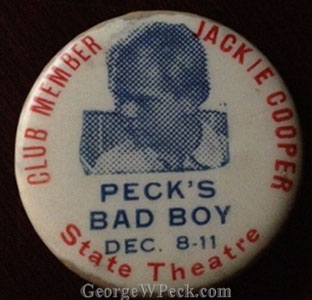 Little Big Book:

Saalfield published "Jackie Cooper in Peck's Bad Boy" in 1934. It is a photoplay book adapted from the Peck movie starring Jackie Cooper. It was written by Charles T. Clinton. In typical style for these little books, most pages of text have a picture (photo in this case) opposing them. This little 5 x 4.5 book has 160 pages.


Movie Theatre playbills:

Here are two programs from movie theaters showing this Peck's Boy Boy movie.

The first one is advertising the movie playing at the King's Theatre in Hong Kong. The program is dated February 27th, 1935.


The second program is the Chinese language program from the King's Theatre. It is dated February 24, 1935.


Peck's Bad Boy Movie Flyer

Here is an "RKO Newsletter" from November 24, 1934 advertising several movies (one of which is "Peck's Bad Boy" starring Jackie Cooper). This little four page pamphlet notes a great double feature for Thanksgiving Day.

Of interest is that there is a notice that Jackie Cooper buttons will be given away. This button is show above.


Another Peck's Bad Boy Movie Flyer

This 9" x 6" flyer advertises the movie at the Victory Theatre. The two pages on the inside of this pamphlet feature a number of scenes from the movie.


Peck's Bad Boy glossy one-sided flyer. 10" x 8".