Peck's Fun consists of extracts from the writings of George Peck that were found in the La Crosse Sun and Peck's Sun. The vignettes were compiled by V.W. Richardson and published first by a local Milwaukee printer- Symes, Swain & Co. This title should not be confused with Peck's books which have the Compendium of Fun in its title or the Peck's Fun books that were copyrighted in 1886 by Belford, Clarke & Co. and were compiled by Thomas Handford (Elmo).

First edition. Symes, Swain & Co. 1879. Brown, blind stamped with the title in gold gilt in the center of the cover. 8 x 5.5.
Cover

Title Page

Frontispiece


Second edition. Belford, Clarke & Co. 1880. Green with black decorative design on the cover. 7.5 x 5.5.


The two 1880 Peck's Fun books which were published by Belford, Clarke & Co. are identical with the exception of the cover of the book and the copyright page. In the green 1880 book the words "Congress", Richardson", " the Librarian" have unbroken type on the copyright page. In the puce 1880 book and the 1882 Peck's Fun edition by this publisher these words have broken type. The inference is that the green book is earlier and the puce colored book is the later 1880 book. Of note is unbroken type in the 1879 Symes, Swain and Co. first edition.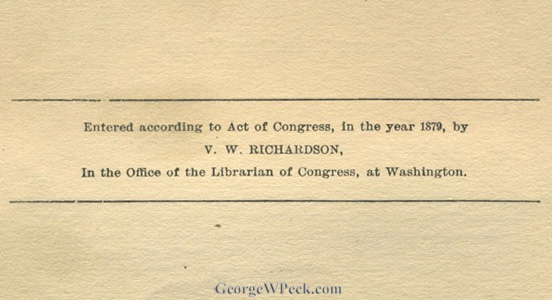 Green 1880 book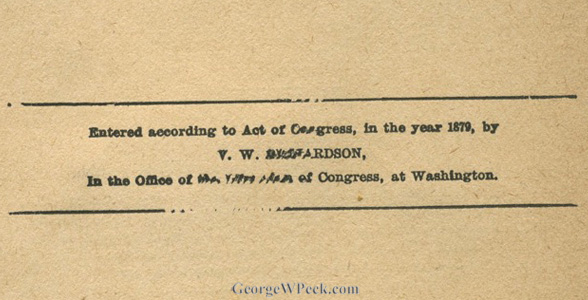 Puce 1880 book and 1882 book


Third edition. Belford, Clarke & Co., Chicago, Belford and Clarke Publishing Co. St Louis. 1882.


Fourth edition. Belford, Clarke & Co., 1883. Paperback. The cover has a picture of George Peck in the center between the words Peck's Fun. Each corner has a labeled Peck Vignette.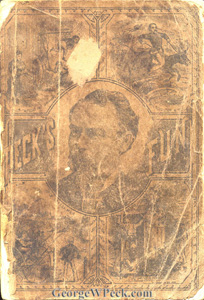 Canadian editions

Rose-Belford Publishing Company

There is evidence that this firm only published one Peck book: Peck's Fun.

The Peck's Fun shown here is a transition copy in which the title page imprint is Rose-Belford but the cover page imprint is the Rose Publishing Co. This was probably published in 1883. The Rose-Belford title page indicates an earlier 1881 publication exists. I have not seen that book.

This book is in wraps at 7 x 4.75. There are no illustrations. It has 248 pages.

It is exceedingly uncommon.


The Rose Publishing Company in Toronto printed Peck's Fun as per this advertisement from the March, 1883 The Rose Library. The book was published in 1883. It is possible that the book referred to in this advertisement is the book above with the predecessor company's title page.