Sunbeams is another of Peck's books that is made up of numerous vignettes that appeared previously in the Peck's Sun newspaper. The book is 220 pages and has fifty line drawn illustrations by Ike Morgan This includes the frontispiece which is a picture of George Peck.

Morgan (1871-1913), a native of St. Louis, was a well known illustrator of children's books. He illustrated the Woggle-Bug Book which was written by L. Frank Baum of Wizard of Oz fame. He also worked with several New York newspapers.

This book was published by two firms as a solo book. It was published in its entirety by three other firms as a combination book with Uncle Ike and the Red Headed Boy. The first edition was published in 1900 by Jamieson-Higgins Company.

Here is the publisher's announcement in a 1900 trade journal.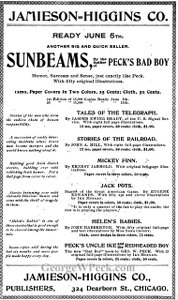 Publishers:

Jamieson-Higgins Company (1900-1902)
Hurst and Company (1903-1910's) This firm also published a combination book.

As a combination book:
Thompson and Thomas (1900 and later)
M. A. Donohue and Co. (1901)
Charles C. Thompson Company (1909-1913)

Jamieson-Higgins Company published this book in one cover format in both wraps and hardcover. The wraps book was printed in June, 1900 as No. 15 in the Belford Series. The cloth book cost 50 cents while the paperback book cost 25 cents.

The first edition was published in 1900 and the reprints thereafter.
Cloth first edition with dust jacket 1900
Wraps first edition in 1900

1901

1902


Hurst and Company 1903-1910's

Beginning in 1903 Hurst published it's "Hurst's Famous Peck Books". At that time this title, Sunbeams, was published in wraps (30 cents) and cloth (60 cents). The front cover illustration was the same as the Jamieson-Higgins cover.

Beginning in 1909 the cover picture was changed. Two variant covers have been seen. Both have the same cover picture but the earlier book has red lettering and the man on the cover wearing a red coat.

Post-1909 Edition:
| | |
| --- | --- |
| | |
| Later cover | |


Other Combination Books:

Thompson and Thomas published the first combination book that contained this title in 1900.
This is the 1900 publication.

Here is the 1901 version.
Here is the title page for the post-1901 Thompson and Thomas editions. Note that although the the cover and text is identical to the 1901 edition, the title page does not mention Sunbeams.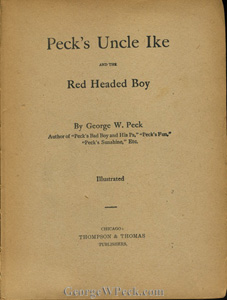 Post-1901 title page


This combination book was also published in 1901 by M. A. Donohue & Co. Michael A. Donohue's publishing company succeeded the Donohue Brothers which was only in business during 1900.

With the exception of the title page, this book is identical to the Thompson and Thomas book.


Charles C. Thompson Company published this combination book in about 1909. This is when this Chicago company succeeded Thompson and Thomas.

The book format is identical to the 1901 combination book published by Thompson and Thomas.