This 315 page 12 mo. book is a compilation of vignettes written by George W. Peck, Bill Nye and M. Quad (Charles B. Lewis). The Peck contributions are from Peck's Bad Boy and His Pa as well as Peck's Sunshine.

It was published by a number of different firms.

Belford, Clarke and Co., Chicago 1883 (first edition)
This book has not been seen.

Morrill, Higgins and Co., Chicago 1892
This publisher's format for this title has not been seen. http://georgewpeck.com/publishers/morrill.html

W. B. Conkey Company, Chicago (1895-1900's)
This title was published within several Conkey series. Most of these have not been seen. For more information on the Conkey Series, see: http://georgewpeck.com/publishers/conkey.html

Harvard Series
This late 1890's series included the seven Peck titles and well as this book.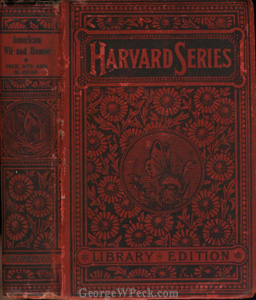 Humorous Series

People's Series
This title is #49 in this series. There are three People's Series formats:
Enameled paper covers at 25 cents
Half imitation morocco-plain edges at 50 cents
Half imitation morocco-gilt edges at 75 cents

Cameo Series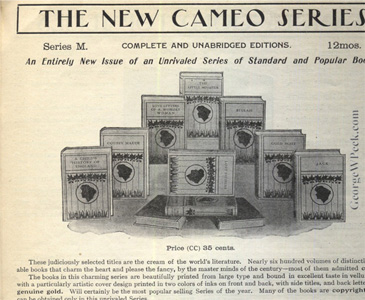 (Representative Cover Picture)


25 cents Copyright Series

Franklin Series (paper covered book) at 25 cents (1901). This title is #18 in this series.

Oxford Series (Volume #12)

Homewood Series (Volume #12)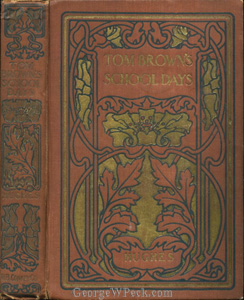 (Representative Cover)


New Abbey Series (with a representative cover)
This series was published with several different covers. Each is specific for a particular year. Two different covers are shown below. The year patterns are still being worked out.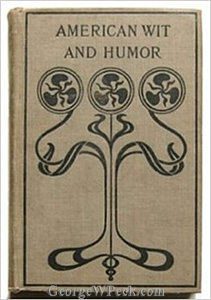 Unknown Series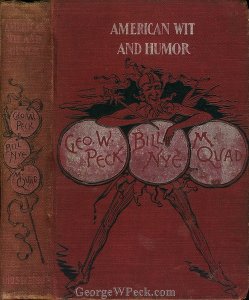 Homewood Publishing Company, Chicago (ca. 1903)
This title was published as #12 in the Oxford and the Homewood Series. The books are 12 mo and cost 36 cents each.

It is presumed that the format of both of these series is the same as the Conkey formats. See: http://georgewpeck.com/publishers/conkey.html
Unknown Series